Boat Cruises, Dolphin Tours, Fishing Charters and Coastal Excursions
Voyages Launching from Heron Harbor in Destin, Florida 6:00am - 7:00pm Daily
Wanna Fish? We've Got You Covered!
Offshore (Recommended), Inshore, Reef, Wreck and More!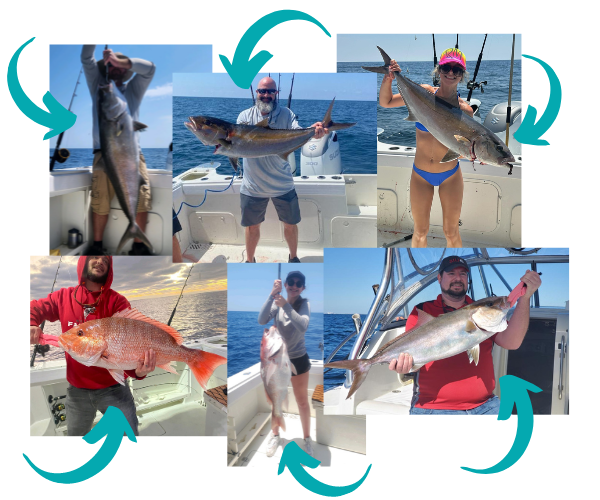 Come aboard our 32ft Sailfish Express to start your next Offshore, Inshore, Reef or Wreck fishing adventure! All charters are private for your group of up to 6 people.
For those looking for a truly unforgettable fishing excursion, with our Federally Permitted vessel, we can take you Offshore into Federal waters to catch some of the BIGGEST and best tasting fish that Destin has to offer!
And for those looking to stay a bit closer to shore, we've got plenty of awesome fishing spots to keep you yelling "Fish On!" as well.
Bringing Family & Friends? No Problem!
Dolphin Tours, Snorkeling, Fishing and Other Excursions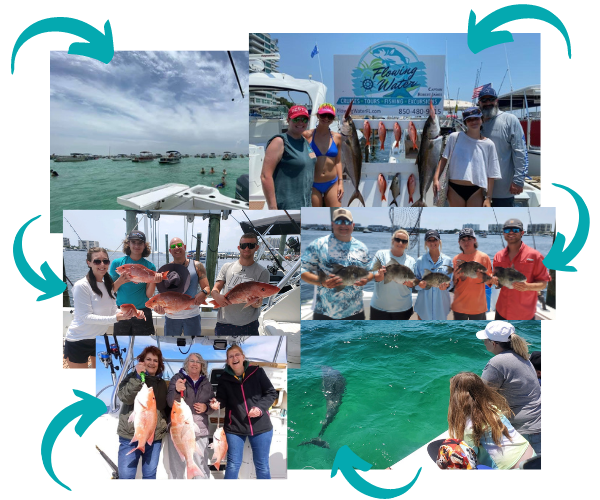 Unlike some other charter companies, we allow you to customize your packages to ensure everyone is enjoying their time on the water!
Want to fish and go on a dolphin tour? No problem! Want to go snorkeling, fishing, and island hopping? You've got it! Just want to cruise around and dip your feet in the water, or maybe just relax all day at the beach or local island? We can make that happen!
All of our charters are private for your group of up to 6 people, so you won't be sharing your space with strangers! We have a private restroom, plenty of shade, and we offer cold drinks!
Flowing Water Charters
Boat Cruises, Dolphin Tours, Fishing Charters and Coastal Excursions
TIFFANY E.
We had an absolute blast with Captain Robert ! Wonderful personality and knows how to locate the fish.
MARK D.
We were first timers and had a blast. Plenty of activity on the lines. Caught a bunch of nice sized Spanish Mackerel, they were cleaned and filet for us before we left. Overall great experience!
AMANDA C.
We had such a great time today! We enjoyed the trip and caught some nice fish. We couldn't have asked for a better day: Our kids had a blast!
RUSSELL N.
Took my 3 and 5 year old out with Robert. He did a great job and put us on the fish. The kids had a great time!
NICHOLE V.
The captain was very engaging he was fun my kids and I loved him. I wanted to book again the next day but we had to leave. My husband, kids and I enjoyed our trip. We will book again with him this summer!!!!!!
❮
❯

Dates are going fast for this season's excursions. Book your spot today for an unforgettable adventure!